Four stellar spots to sip wine across the United States
California has the most wineries in the country, but you don't have to make the trek to Napa or Sonoma to visit a vineyard to enjoy a day (or weekend!) of wine tasting. With wine being produced in all 50 of the United States, boutique wineries and tasting rooms are flourishing in many lesser-known hubs. Here are four thriving viticultural areas to consider for your next tasting trek.

Palisade, Colorado
Heralded as both the peach and wine capital of Colorado, picturesque Palisade is just four hours west of Denver. And while it may be short on people (population is just over 2,600) it has no shortage of wineries, offering more than two dozen, 20 of which feature tasting rooms. For a memorable trip, stay at the Spoke and Vine Motel, a trendy re-do of a 1950s motor court. Upon check-in, you'll receive a free sample of local wine and a free bike cruiser rental you can use to explore nearby vineyards.

One to put on the list: St. Kathryn Cellars, a specialty winery known for wines that capture the soul of fruit flavors from the orchard and berry patch: raspberries, world-famous Palisade peaches, strawberry-rhubarb and lavender. While there, you can sample up to 30 wines within its two tasting rooms.

Texas Hill Country, Texas
A bit of trivia: Texas was the first state in the United States to establish a vineyard. And with more than 350 vineyards and wineries, the Lone Star State is a burgeoning wine destination. While vineyards and tasting rooms can be found all over the state, a favorite of wine aficionados is the Fredericksburg Wine Road 290, a collection of 19 wineries on U.S. Highway 290 in the Hill Country. Because of its variety of microclimates, the region is an ideal place to harvest a variety of grapes.

For a great introduction to the Texas wine industry, visit 4.0 Cellars in Fredericksburg, which started as a collaboration of three Texas winemakers from Brennan Vineyards, Lost Oak Winery and McPherson Cellars. It has evolved into a tasting room and wine club for different wine techniques and products, including single varietal wines and eclectic blends from vineyards across the state.

Bonus: The 4.0 Cellars' tasting room sources cheeses from the best of Texas cheesemakers.

Asheville, North Carolina
You've likely heard of the Biltmore Estates winery, which took root on the private estate of George Vanderbilt 35 years ago and has emerged as the most-visited winery in the nation. And while the winery has racked up numerous prestigious awards and point rankings in competition with the finest wines in the world, there are more than 100 other wineries in and around Asheville that are worth a visit.

Varietals to try in this area include Cabernet Sauvignon, Cabernet Franc, Merlot, Syrah, Chardonnay, Viognier, Sauvignon Blanc and Riesling.

One under-the-radar pick: Burntshirt Vineyards, two vineyards totaling 30 acres that are situated on both sides of the Eastern Continental Divide in the Crest of the Blue Ridge wine region – some of the highest elevations on the East Coast. Visitors can tour the 10,440-square foot winery and see a crush pad, special equipment to de-stem the grapes, a testing laboratory and a 1,700-square foot barrel room which mimics wine caves found in European chateaus. While exploring the vineyard, be on the lookout for the incredible flora and fauna that occupy the property. If you're lucky, you may spot wild turkey, deer or even a bobcat.

Willamette Valley, Oregon
The Willamette Valley — a picturesque area stretching from Portland to Eugene — is home to more than 550 wineries and is known to harvest some of the world's best Pinot Noir. But there's no shortage of other varietals to try, including Chardonnay, Riesling and Cabernet Sauvignon.

One tasting room to check out: Archery Summit, which produces high-end Pinot, Chardonnay and other wines, at its picture-postcard location in the Dundee Hills. There is a roster of experiences to choose from, ranging from a $20 flight in the tasting room to combination tastings and tours of the underground barrel caves carved into volcanic rock.

Can't make the trip right now? No worries: In the fall, Archery Summit introduced a virtual tasting experience, where a member of the winery's hospitality team will virtually join you via Zoom to taste, talk and explore those bottles you've been saving in your cellar.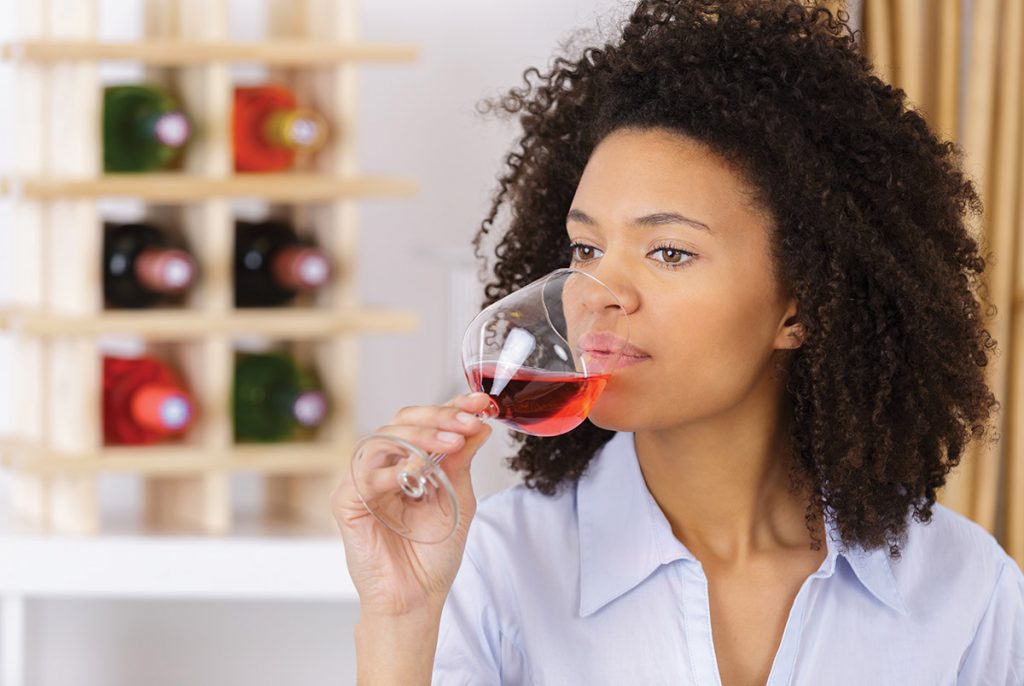 Tasting Tips
If you're a newbie to the world of wine tasting, use the "5 S's" to master your experience: see, swirl, sniff, sip and savor.

See
Observe the wine's color when it's first presented to you: This provides important clues about the grape variety and taste. If you can, hold the glass up to a white background and observe whether the wine is clear or cloudy. High intensity color goes hand in hand with high intensity flavor.

Swirl
Before taking a sip, swirl the wine around in the glass to get another hint as to how the wine will taste. Sweeter wines will leave thick streaks (called legs) on the inside of the glass when swirled.

Sniff
You can judge the quality of a wine by its bouquet and taste. Pause to consider what you're smelling and contemplate what it reminds you of. Do you detect fruits? Herbs? Spices? The bouquet is the major determinate of perceived flavor in the mouth.

Sip
Now it's time for the best part. Take a sip a bit larger than you normally would, and hold it in your mouth for five seconds. Once inside the mouth, the aromatics are further released by exposure to body heat. When the wine is allowed to pass slowly through the mouth, it provides the fullest tasting experience.

Savor
The sensation you get from swallowing the wine can be different from the taste that's left on your palate. What you'll be looking for is the length of time the wine stays with you (called the finish). Really exceptional wines have an impressive flavor profile and can be tasted on the palate for up to 20 minutes after tasting. Also, consider the balance of the flavors. In a well-defined bottle, no one single flavor will dominate.
© Lordn; Auremar